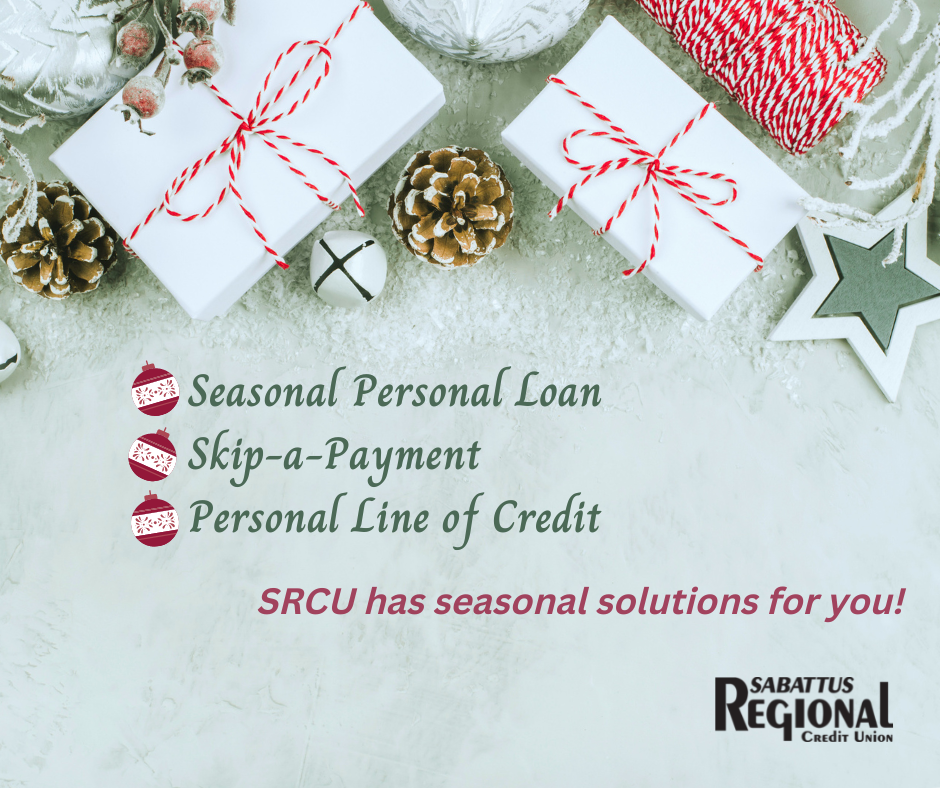 Seasonal Loan Special
Annual Percentage Rate based on a credit score of 680 or higher.
Maximum loan amount $2,500.00. Maximum term 12 months. No in-house refinancing, applies to new loans only.
Rate good through December 31, 2022.

Amount Borrowed
Term
Annual Percentage Rate
Monthly Payment
$500.00
12 Months
4.99%
$42.80
$1,000.00
12 Months
4.99%
$85.60
$1,500.00
12 Months
4.99%
$128.40
$2,000.00
12 Months
4.99%
$171.20
$2,500.00
12 Months
4.99%
$214.00
Click Here to Apply!

For a fee of $30.00 per loan, you may skip your November, December, or January loan payment.
Use the extra cash for your holiday shopping, heating expenses, or even for that new phone you've been wanting!
Eligibility Requirements:
All loans must be current and your credit union account(s) must be in good standing.
New loans less than three (3) months old are not eligible. At least 3 full payments must have been made.
Mortgages, Home Equity, Personal Lines of Credit, and Overdraft Protection accounts are excluded from this offer.
Other restrictions may apply.
For more information call 207-375-6538 or email loans@srcu4u.com.
To apply for a skip-a-payment, click here. A valid email address is required. All borrowers are required to sign.

With a Personal Line of Credit from Sabattus Regional Credit Union, you can access funds for seasonal expenses and shopping all year round! Our line of credit is a convenient alternative to high interest rate credit cards.
Personal Line of Credit Features and benefits:
Lines of credit offered as low as $500.00 up to $15,000.00
The Annual Percentage Rate (APR) will be the Wall Street Prime Rate plus 4.00%, rounded to the nearest .25%. Prime rate is currently at 7.00%.
The monthly payment will be the greater of $50.00 or 2.5% of the outstanding balance at the end of the previous month.
Funds may be accessed in person, through iTalk, Shared Branching, SRCU Online, and through Mobile Banking.
Overdraft protection may be available.
Contact a Loan Officer or give us a call at 207-375-6538 for more information.
View or print our Line of Credit Brochure.
*Annual Percentage Rate 11.00% as of 11/03/2022 1.) No minimum initial advance required.
2.) There is no minimum Annual Percentage Rate (APR) that may be imposed. The maximum APR that may be imposed is 18%.
3.) The Annual Percentage Rate will vary and will be based on the Prime Rate as published in the Wall Street Journal (the "Index") and will be the rate in effect on the 15th day of the previous month plus four percentage points (4%) (the "Margin") rounded to the nearest .25%. Interest will be charged from the transaction date. Click Here to Apply Online