Sabattus Regional CU helped raise a record-setting $740,000 to help end hunger in Maine!
We are pleased to share this great news with our membership! The results have been announced and Sabattus Regional CU placed in the top twenty-five standing in both total funds raised and highest per-member contributions for the 2017 Maine Credit Unions' Campaign for Ending Hunger. We placed #15 in total funds raised and #4 in per member contributions.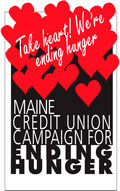 Key Sabattus Regional CU Ending Hunger Events in 2017:
Christmas Spectacular Raffle
Anne Lachance Yard Sale
Candy Bar & Ice Cream Sales
Motorcycle Ride
Gowell's Store Pump It Up
Friday Casual Wear
Jelly Beans Contest
Sabattus Regional CU will have a total of $13,924.95 to distribute to organization(s). These funds represent 100% of the $12,274.95 we raised and additional reward grants of $1,650.00 for our top 25 placement in both categories.
Thank you to our volunteers, staff, local businesses and members who were part of our 2017 fundraising effort… we could not have done it without you!
The success of the 2017 Campaign once again exemplifies what Credit Unions can accomplish when we work together collectively for a common cause. Thanks to the generosity of Maine's Credit Unions, including staff, volunteers and members, we have reached another milestone in our efforts. We are pleased to announce that a record-setting amount of $740,027.35 was raised to help end hunger in Maine. We can be proud of the fact that 100% of this has gone directly to hunger organization is Maine.
For more information about Ending Hunger in Maine click here.