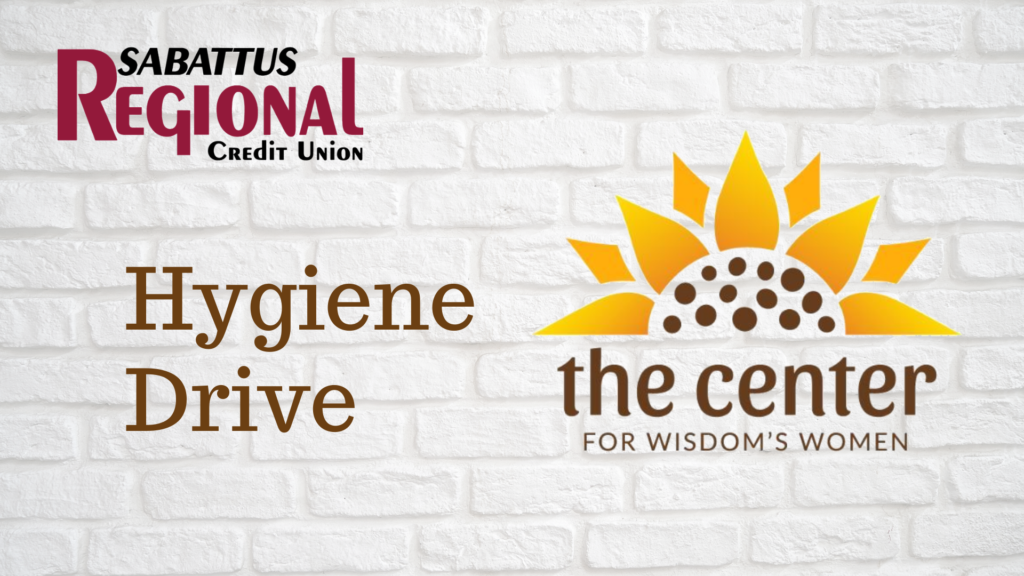 In honor of March being Women's History Month, SRCU has decided to host a hygiene drive for the Center for Wisdom's Women! We believe in the importance of what the Center does for the women in our community. At the bottom of the page we have included a list of items you can bring to Sabattus Regional Credit Union during the month of March in order to support The Center for Wisdom's Women and help us celebrate Women's History Month!
The Center's Story:
"Within the B Street neighborhood of Lewiston, Maine there is a place, a safe and sacred space, called Wisdom's Center. Run by and for women, it brings hope and joy, life and light into the lives of women who otherwise fall between the cracks of the social service system. They are forgotten mothers, daughters, sisters and wives, many of whom are the most wounded of our society and have no support system elsewhere. Wisdom"s Center for those guests, is a sanctuary of sorts.
It functions as as grassroots collaborative that offers women safe-haven and support to build community, find resources, build self esteem and resiliency. Women come together in solidarity to make their lives better. In doing so they can respond better to the stress of poverty, become more stable and improve their economic security. "
Learn more about the Center: https://wisdomswomen.org/
Hygiene Drive List: 
 Feminine products, shampoo/conditioner, deodorant, toothpaste/brushes and floss, soap etc. (These are given away. Please only full size products, not samples, new/unopened.)
Beverages: Instant coffee (reg. & decaf), hot chocolate, herbal teas, powdered milk, honey, sugar & creamer.
Snacks: cookies, oatmeal, healthy munchies like granola bars, dry fruit & nuts, single serving fruit cups
& soups, diabetic snacks, peanut butter.
Paper goods: toilet paper, napkins, paper towels, plates & cups.
Gift certificates: Office supply stores (for printer ink, paper etc.), hairdressers (to give away for
birthdays), $5 Dunkin Donut cards, $25 grocery cards, etc.
In Kind: Computer tech support, social media manager; printing services, etc.